---
The KiCad Library Convention (KLC) is a set of requirements for contributing to the official KiCad libraries. Users wishing to submit or update library files should be familiar with these guidelines.
The KLC are a set of guidelines, rather than rules. Electronic component libraries are diverse and complex, and exceptions can be made at the discretion of the library team.
Where the KLC deviates from a particular datasheet or manufacturer recommendation, the datasheet should take preference unless there is a good reason not to do so (which should be clarified by a librarian).
Where the KLC is unclear, users should attempt to match the convention of existing library components, or seek further clarification.
---
KLC Helper Scripts
The KiCad library team has developed a set of Python scripts which can be used to help test if library components conform to the KLC requirements.
When a merge request is made to the libraries, the contributed files are automatically checked using these scripts. It can be helpful to run these scripts on your local machine before submitting a PR, as it will help speed up the process of merging your contribution(s) into the library.
To run the footprint checker script, for instance, cd into the "kicad-library-utils/klc-check" directory, then run the Python script ./check_footprint.py path_to_fp1.kicad_mod path_to_fp2.kicad_mod -vv. This will carefully check your footprint according to the KLC requirements laid out below, notifying you of any discrepancies, errors, or violations. See more usage examples in the readme at the link above.
Note: While many of the KLC guidelines are checked by these scripts, there are some which are not covered. Additionally, any PR requires manual checking by a member of the library team.
---
General Library Guidelines
The general library guidelines apply to all library elements (symbols / footprints / models / templates / 3D models). However, these guidelines may be overridden in some cases by specific exceptions described in further sections.
---
G1 - General Guidelines
Filenames, symbol names, footprint names, model names, 3D model names, and template names must contain only valid characters, as determined below:
Alphanumeric characters (A-Z, a-z, 0-9)

Underscore _

Hyphen / dash -

Period / dot .

Comma ,

Plus symbol +
This character set ensures that symbols will be compatible with all filesystems, and will not cause any issues due to character rendering.
Further, filenames and symbol names must not use the space character. This can cause issues with string escaping and is best avoided.
Libraries with more than 250 items can result in long library loading times. Additionally, such broad categorization of components means that it can be hard to locate a particular component in the libraries.
A library size limit of 250 items ensures that libraries are quick to load and components are easy to locate. If a given library exceeds 250 components, it should be split and further subcategorized according to component functionality.
Rather than grouping components (e.g. symbols, footprints) by their manufacturer, KiCad libraries are organized by component functionality. This grouping strategy has a number of key benefits:
Similar components are grouped together, allowing alternative parts to be easily substituted

If possible, symbols should be derived from existing symbols to reduce library size

Generic parts which are produced by multiple manufacturers are supported
Library organization should follow the general form as described below, with each element separated by the underscore (_) character:
Library function

Library sub-function

Tertiary qualifier

Manufacturer name

Component series name

Extra library descriptors
Note: Some of the elements listed above may be omitted if not required.
KiCad software is used by people who speak many different languages. The KiCad software provides translations for these languages, but the library files do not provide translations.
Library files should be written using English, excepting where specific component names are non-English (for non-English manufacturers).
Where potential differences in spelling and grammar exist, American English should be given preference.
In general, plural naming (e.g. for libraries) should be avoided, as pluralisation of some words is inconsistent. Non pluralized names should be used in preference:
Sensor_Temperature instead of Sensors_Temperature

Memory_Flash instead of Memories_Flash

TerminalBlock instead of TerminalBlocks
Acronyms should be capitalized

MCU (microcontroller)

FPGA (field programmable gate array)

Manufacturer names should be capitalized according to the manufacturer

Unless separated by delimiters such as _, -, ., words should be separated using CamelCase convention, with the first letter of each word capitalised
Library files must always be commited to GitLab using Unix-style line endings. This means that lines are terminated using the LF (line feed) character, rather than the DOS style CR+LF line endings.
KiCad library files must be compatible across multiple operating systems, and users should be able to contribute without generating unnecessary noise in the files by constantly changing line endings.
When using the KiCad libraries on a Windows PC, the line endings in the library files may be automatically converted to CR+LF. This is fine, as long as any contributions made to the libraries observe the LF line ending requirements.
This issue is addressed by insisting that all KiCad libraries include a .gitattributes file. This file ensures that the line endings are automatically converted by Git.
An example of a simple .gitattributes file which ensures footprint files have correct line endings is as follows:
Note: The KiCad library repositories should already have the correct .gitattributes file in place to achieve this
Contributions of library assets must be created in the latest stable version of KiCad.
This is to avoid problems caused by changes in how assets are stored in different versions of KiCad. (Changes in how line ordering is determined, how strings are escaped, etc.) Another reason is to avoid including features not supported by the latest stable release.
When specifying a dimension (e.g. in a footprint name) the units must always be provided:

3mm - millimeters

1in - inches

When specifying multidimensional units (e.g. length x width x height) then the units only need to be appended once

3x4x7mm - 3mm x 4mm x 7mm

Metric units are preferred, where appropriate

Linear dimensions should be specified in millimeters

Angular dimensions should be specified in degrees

Temperature should be specified in degrees Celsius
---
G2 - Generic and Fully Specified Symbols
KiCad has two workflows regarding what a symbol represents and when it is assigned a footprint. It can be done in the library in which case the symbol represents an exact part or using the "Assign Footprints" tool at the end of the design process.
Generic symbols can be used with multiple footprints. They do not have a default footprint assigned. Generic symbols allow flexibility in the design workflow. For this workflow the symbol placed into the schematic is typically selected to fit the intended function instead of fitting a particular part. The footprint assignment happens later when the exact part number is selected. Using generic symbols allows a small number of library symbol elements to represent a very large number of possible component combinations.
An example of the use of generic symbols are the Resistor and Capacitor symbols available in the KiCad library. These symbols do not have an assigned default footprint, as there are many possible compatible footprints.
Fully specified symbols define a matching footprint, and are named based on the MPN (manufacturer part number). Such symbols do not depend on the user to select the correct footprint later but can have alternative footprints defined using footprint filters such that the user can select an alternate footprint.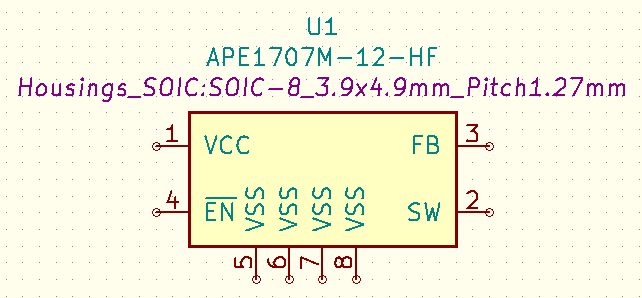 A fully specified symbol together with a footprint specialized to one component are called an atomic part. A library of only such parts is called an atomic library. Confusingly, some users refer to a fully specified symbol as an atomic symbol.
The official library requires fully specified symbols except for a small number of libraries that contain only generic symbols. These generic libraries are:
Device

All Connector libraries

The logic family libraries like 74xx, 4xxx, …​
---
3D Model Guidelines
The following guidelines apply to contribution of 3D model data.
---
M1 - Contributing Models
The goal of the KiCad 3d model library is to provide a free open library of 3d models. This requires certain restrictions regarding contributions with respect to their legal status.
Users must only submit models for which they own the rights allowing relicensing under the KiCad library licence.

In most cases this means they have created the model themselves, either manually designed in a parametric modeling software or via scripting tools.

Contributing model data designed by a third party complicates licensing issues and is to be avoided. This includes files downloaded from a manufacturers website.
The source files used to generate 3D model data must be submitted to this repository when a user contributes 3D model data.
Source files of 3d models are the native files generated by the 3d modeling software (Example: fcstd for Freecad).

Source files alternatively are any generator scripts.

The source repository directory structure mirrors that of the kicad-packages-3d repository.
If the model is being submitted by an authorized representative of the manufacturer of the component, the requirement to also submit the source files may be waived by the KiCad Library team. This is contingent on the manufacturer providing the KiCad team with a primary point of contact to receive issue reports with the model as well as a commitment to providing updated STEP/WRL models that resolve issues with incorrect STEP/WRL models.
The KiCad Library team reserves the right to replace any models at their sole discretion and may prioritize models compliant with M1.3.
---
M2 - 3D File Requirements
Any 3D model contribution to the KiCad library must be made in both step and wrl format.
WRL files contain material properties and are used for realistic rendering. However they cannot be exported to MCAD packages.
STEP files are used for integration with MCAD software packages. These files do not contain material properties and cannot be used for realistic rendering.
The 3D models must be aligned and scaled appropriately to match the associated footprint.
The 3D model must be aligned such that it does not require an additional alignment offset in the footprint options. When associating a 3D model with a footprint, the offset parameter must read (0, 0, 0)
STEP files include absolute dimensional information, and must never have a secondary scaling factor applied. The model scaling parameter in KiCad must read (1, 1, 1)

WRL files do not specify absolute dimensions. The WRL fileformat has no way do specify what its units mean. KiCad considers one WRL unit to be 0.1 inches for historical reasons, so models must be scaled accordingly.

Assuming the model is designed in mm then the required scaling factor for WRL export is 1/2.54 (~0.393700787).

The Freecad extension kicad-stepup exports WRL files already correctly scaled.
The model must be rotated such that no additional rotation is required within KiCad to align the 3D model with the footprint.
The goal of the KiCad 3d model library is to provide a free open library of 3d models. The use of open source design tools is preferred for this very reason.
Freecad is chosen as the preferred tool to be used. Especially in combination with the kicad-stepup extension.
Files created in closed source tools are permitted. If a certain model is available designed in both an open and closed tool then the one from the open tool is preferred and will replace the other one.
---
KLC Revision History
Revision information for the KLC can be found here.